Our Family Serving Your Family Since 1975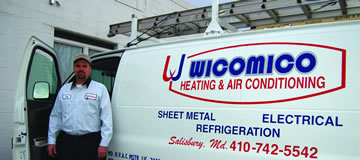 Wicomico Heating and Air Conditioning offers Residential, Commercial, and Industrial Heating and Air Conditioning installation and service. We have design and build capabilities as well as plan and spec. We also offer 24 hour, 7 days a week Emergency breakdown service.
We have been providing outstanding service in the Heating and Air conditioning industry on Delmarva for over 39 years. All installation and service personnel are licensed by the State of Maryland. We also have two Master HVAC technicians on our staff.