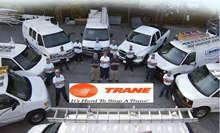 Heating and Air Conditioning Experts in Salisbury MD
Every time you contact Wicomico Heating & Air Conditioning, our goal is to exceed your expectations. We service and maintain all makes and models of HVAC units for homes and businesses in Salisbury MD and Delmarva. We also offer top-of-the-line heating and cooling systems at competitive prices. Any HVAC service you need, whether it be a residential AC installation or commercial heating repairs, Wicomico Heating & Air Conditioning is here for you.
Whether it's right here in Salisbury or the tip of the Delmarva Peninsula, we're devoted to honoring our commitment as Trane Comfort Specialists! A Trane Comfort Specialist is an independent Trane dealer devoted to being the best in installation, service, customer satisfaction and employee training.
Contact us to set up an appointment for a comfort analysis. Our team of heating and cooling professionals will be delighted to answer all your HVAC questions, needs, and concerns. Just say "repair" and we'll be there!
Residential HVAC Repairs and Installations
Whether it's heating & air conditioning installation or maintenance, our team of HVAC professionals have your family and friends' comfort as their #1 priority. Partnering with Trane, we will equip your home with an HVAC system that offers superior quality and efficiency.
Commercial HVAC Service
Your employees and clients deserve to work in a comfortable environment. At Wicomico Heating & Air Conditioning we pride ourselves in our top-of-the-line commercial HVAC services. We believe that in a professional environment it's important to have professional level comfort. Trane's wide range of HVAC products will undoubtedly satisfy any business' budget.
Geothermal HVAC Systems
Ask one of our Wicomico Heating & Air Conditioning representatives if a geothermal HVAC system is for you. Geothermal is an investment but can deliver more energy and make your home more efficient in the long run. Although it's a bit more of an expense up front, you will make back the money with the energy you produce and lower your utility bills.