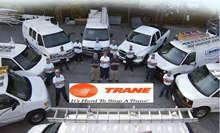 Installation and Replacement
The professionals at Wicomico Heating & Air Conditioning are experienced with a wide variety of types, brands, and models of furnaces and air conditioners. Whether you need to install a high-quality HVAC system for a newly built home or replace an older heating and cooling system, we can provide you with fast, professional installation services to maximize your system and energy efficiency.
Maintenance and Repair
If your HVAC system is not working efficiently, or if your utility costs have gone up, your HVAC system likely needs a repair. Our technicians can quickly diagnose the issue and perform a quick repair. It's also recommended that heating and air conditioning systems are each serviced once a year to perform necessary maintenance and check for any issues before they affect the performance of your HVAC system.
Residential HVAC Services
Home is where your family makes memories, and we make it a priority to keep you and your family in comfort no matter what the weather outside feels like. For new builds, we can provide advice on HVAC system options and what models would be best for your home. Wicomico does installations and repairs right the first time, so you can rely on your system to last for years to come.
Commercial HVAC Services
Office buildings, retail space, and industrial or manufacturing facilities all have unique needs. Our experts can walk you through your options and design a personalized heating and cooling system. We'll find the system that's just right for your commercial space's size, usage, and budget, so you can keep your employees and customers in comfort.
Emergency HVAC Assistance
At Wicomico Heating & Air Conditioning, we put our customers first, which is why we offer on-call HVAC repair services 24 hours a day, 7 days a week. Summers and winters can be extreme in Delmarva, so give us a call if you experience an issue with your HVAC system, and we'll get you back to a comfortable temperature as quickly as possible.